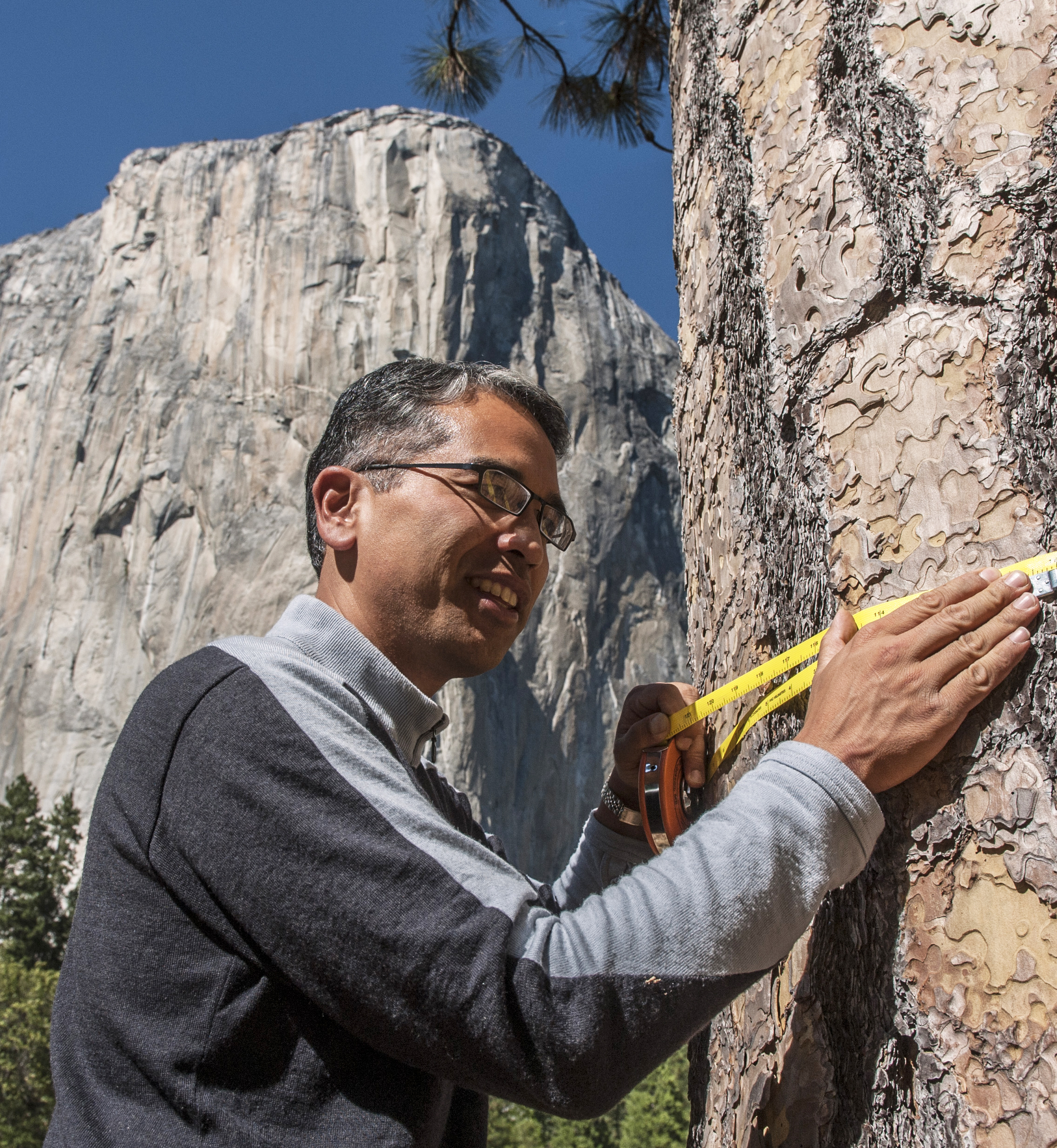 Patrick Gonzalez measures the diameter of a tree in Yosemite National Park. Photo by Al Golub.
The University of California, Berkeley, is pleased to announce Patrick Gonzalez as the new executive director of the Institute for Parks, People, and Biodiversity.
Established in 2017 by Rausser College of Natural Resources, the Institute tackles pressing issues facing the future of the parks—including climate change and equitable access. Gonzalez, who recently completed a year of service in the White House Office of Science and Technology Policy (OSTP), will start on December 1.
"I am a climate change scientist and forest ecologist and my mission is to advance science-based action on human-caused climate change to protect nature and people," said Gonzalez, an associate adjunct professor in the Department of Environmental Science, Policy, and Management and a faculty affiliate of the Energy and Resources Group (ERG). "I'm grateful for this opportunity to lead the Institute and advance science and solutions to halt climate change, conserve biodiversity, and improve the experience of nature for all."
A unique set of experiences
A graduate of ERG's PhD program, Gonzalez has advised federal and international agencies and policymakers on the dynamics of climate change, ecosystems, wildfire, and carbon solutions with the goals of conserving biodiversity and protecting human well-being. He was a lead author on four reports of the Intergovernmental Panel on Climate Change (IPCC), the United Nations' lead advisory body on climate change science, which was awarded a share of the 2007 Nobel Peace Prize.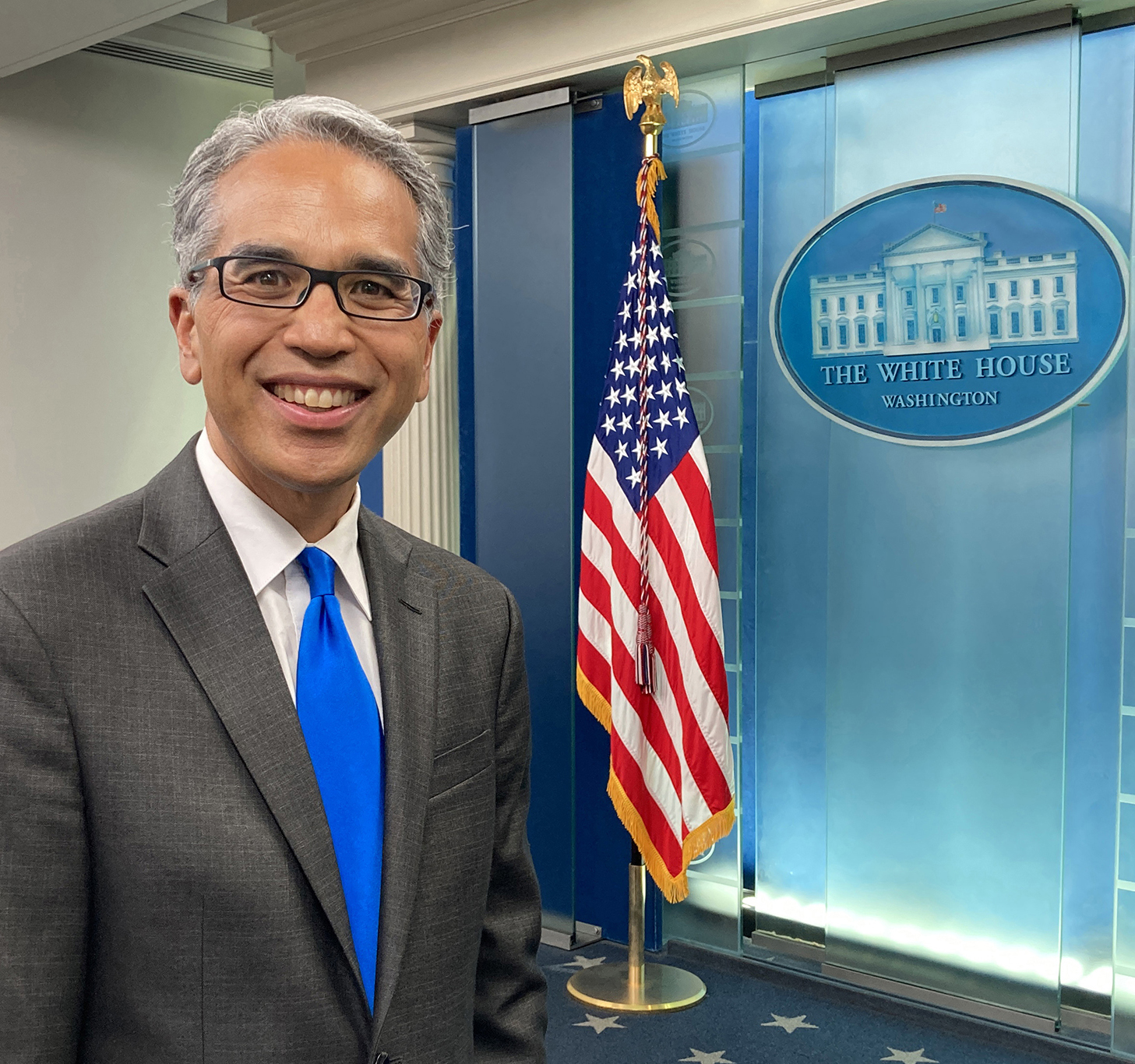 Patrick Gonzalez at the White House. Photo by John Windmuller.
Gonzalez brings nearly 17 years of public service in the U.S. Government to the Institute, including a recent role in the Biden administration. He advised the White House on science for national policies as assistant director for climate and biodiversity in OSTP. Prior to that Gonzalez was the principal climate change scientist of the U.S. National Park Service.
Gonzalez has conducted field research across Africa, Latin America, and the United States and assisted local people and land managers in 25 countries and 269 U.S. national parks. He has published research in Science, Proceedings of the National Academy of Sciences, and other journals. Gonzalez has often taken a public stand in support of scientific integrity and has broadened public understanding of climate change through public lectures and interviews.
Jon Jarvis, who led the National Park Service from 2009 to 2017 and served as the Institute's inaugural director, called Gonzalez "an extraordinary scientist with extensive knowledge of and experience with the impacts of climate change to our parks and public lands."
Jarvis said Gonzalez, who has been a faculty affiliate of the Institute since its founding, will bring high integrity and a unique set of experiences to the role. "With his stature as a lead author on the Intergovernmental Panel on Climate Change, Gonzalez will lead the Institute to deliver usable knowledge to our parks and public lands during a period of intense change," Jarvis added.
Continuing UC Berkeley's legacy of land stewardship
UC Berkeley has supported the mission of the National Park Service through its commitment to research and action to protect public lands and our natural world.
In 1915 Stephen T. Mather, class of 1887, and Horace M. Albright, class of 1912, convened a group at UC Berkeley to plot a future for the country's existing and evolving national parks. The resulting legislation established the National Park Service in 1916, an agency Mather and Albright would go on to lead.
The year before the National Park Service celebrated its centennial, UC Berkeley convened science leaders and land managers to chart a path for the next century of parks stewardship. The summit helped envision and contribute strategies for science in, about, and for using parks over the coming decades by building on the historic partnership between the National Park Service and scientists at leading universities and other organizations around the world.
"UC Berkeley's longstanding commitment to biodiversity and ecosystem conservation has nurtured the health of parks and protected areas worldwide," said Rausser College Dean David Ackerly." I am delighted that under Gonzalez's leadership the Institute will continue its important work addressing major challenges facing our public lands and waters, expanding equitable access to the outdoors, and serving as a bridge between park managers, the academic community, and policy makers."
Gonzalez said the Institute will advance scientific research for insights into the impacts of climate change and carbon solutions. He also aims to guide the Institute to help national parks and other protected areas apply the results of UC Berkeley scientific research to landscape-scale biodiversity conservation—work that will contribute to the 30 x 30 goal to conserve 30 percent of land and water by 2030.