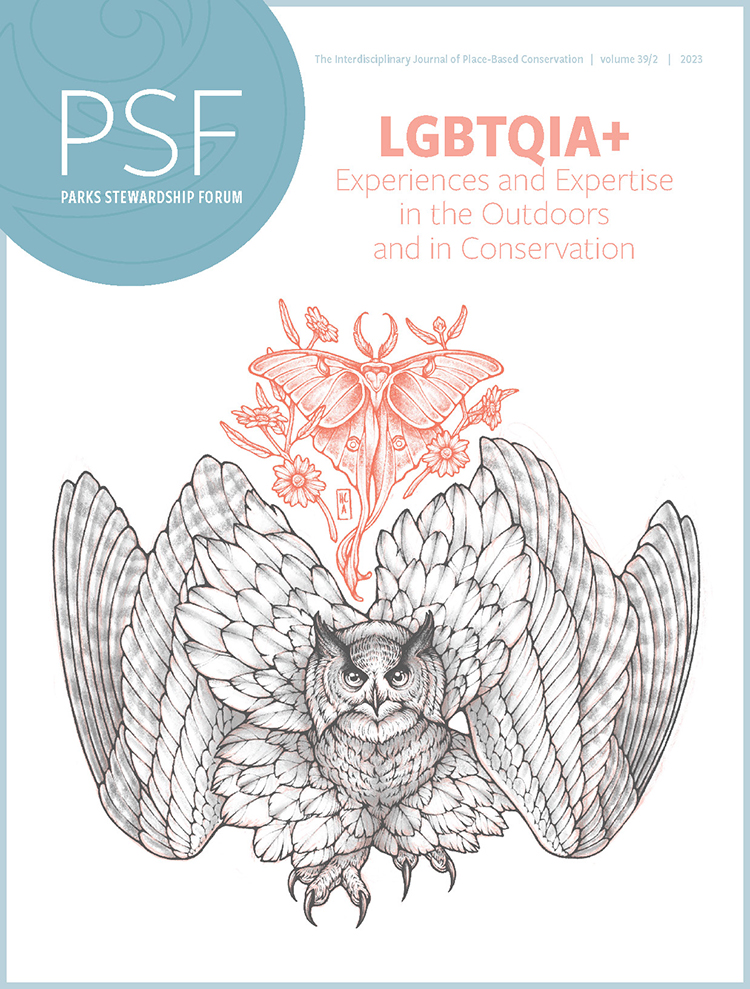 Banner photo: © Mario Gastelum; cover illustration: © Henry Crawford Adams
The complete contents of Parks Stewardship Forum (vol. 39, #2, 2023) are below. Hover over each document to view a PDF. If you want to download or cite any of the articles, visit Parks Stewardship Forum's scholarly website on the University of California eScholarship platform: https://escholarship.org/uc/psf. There you can download a press-quality PDF as well as find a permalink (DOI) for each article.
psf_392_masthead_toc_web

Click the PDF above to view the masthead and table of contents for this issue.
psf_392_diamant_final_web

psf_392_gonzalez_final_web

psf_392_intro_web

psf_392_adams_strength_final_web

psf_392_martin_final_web

psf_392_ahnam_final_web

psf_392_gastelum_final_web

psf_392_greco_oz_final_web

psf_392_heath_final_web

psf_392_sealy_final_web

psf_392_adams_hierophant_final_web

psf_392_farish_final_web

psf_392_garrett_final_web

psf_392_jarvis_final_web

psf_392_kostecka_final_web

psf_392_porteroff_final_web

psf_392_adams_chariot_final_web

psf_392_chapman_final_web

psf_392_garland_final_web

psf_392_loy-ashe_web

psf_392_potvin_web

psf_392_demirjyn_final_web

psf_392_forist_final_web

psf_383_emory_final_web

psf_383_manning_final_web

psf_392_warneke_web

psf_392_koets_web